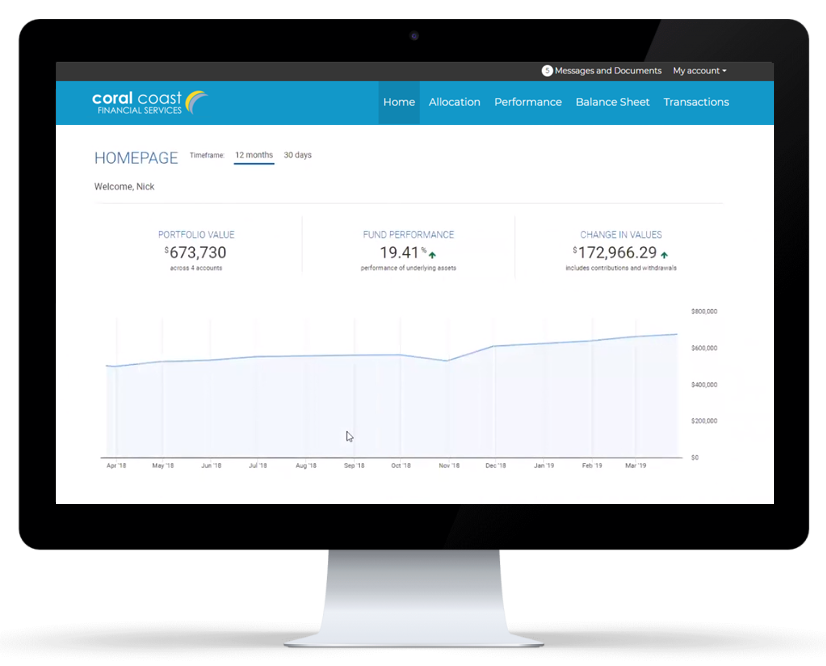 With our clients becoming more and more digitally savvy, we realised we needed to provide a solution that allows them to digitally engage with us and have a greater understanding of their investments. This is why over the coming months we will be rolling out our new Client Portal.
Our client portal delivers a professional and personalised digital experience for our clients, who will be able to see a full picture of their financial life. This tool will benefit both our clients and our advisers by helping ensure they see things from the same perspective while also improving the transparency of the work we do by giving clients more visibility into their investments.
Specifically, the Client Portal gives clients access to a front-end interface that presents information in a visual format that can be accessed across mobile, tablet, laptop and desktop devices. Clients will have the ability to engage with their financial information and interact directly with advisors through secure two-way messaging. This messaging functionality is designed to enhance communication and collaboration with the ability to share and collaborate on documents.
Moreover, we have aimed to streamline manual processes by providing the ability for clients to securely sign documents through the portal that are shared by their adviser. Overall, the aim is to not only help clients better understand their investments, but also to improve communications with their adviser.
We believe that in a digital age it is important to be able to communicate important information online. The client portal will accomplish this while also maintaining enterprise grade security. Over the coming months we will be aiming not only roll out the portal to our clients but also ensure that we equip them with the knowledge and information needed to make the most out of it.